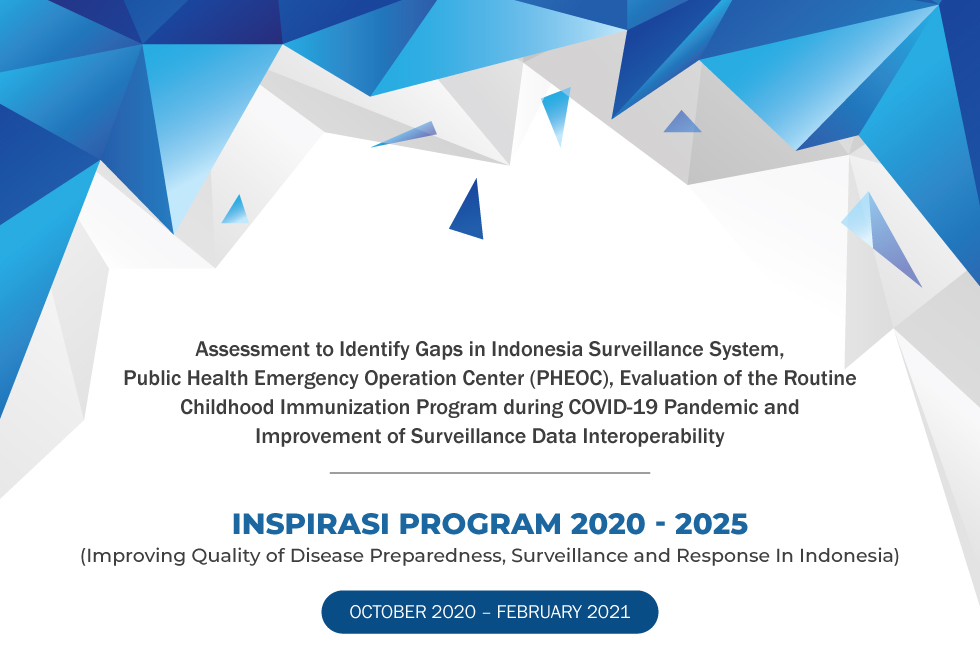 A. INTRODUCTION
Based on the Ministry of Health act no 45 2014, Public health surveillance is a systematic activity and continous analysis of disease or health conditions that could affect the disease transmission. It is necessary to provide early warning for the potential outbreak event and measure to control it effectively and efficiently. Disease surveillance is regulated in Ministry of Health act no 1479 2003. Currently, 23 disease symptom had been regularly monitored using SKDR (Sistem Kewaspadaan Dini dan Respon ~ Early Warning Alert and Respons System (EWARS)) through routine message from 10232 primary health care (Puskesmas) in 34 provinces of Indonesia. Fast and accurate information could become a foundation the have a strategic regulation in national or provincial level.
Data interoperability were still an issue in Indonesia. This is due to the difficulties of the technical aspect, such as different application used in province, district or puskesmas. These application has different database or naming, that create a difficulties in combining together. Many puskesmas also still did not have a dedicated person who were specifically assigned to manage the disease surveillance.
International Health Regulation (IHR) had been proved able to counter the spread of H1N1 pandemic in 2009. Indonesia had also fully adopted IHR in 2014. The IHR external evaluation in 2017, mention that Indonesia capable to manage the future pandemic since we already have the regulation. However in 2020 during the COVID-19 pandemic, there still a hole in the Indonesia health system that cause an increase in number of COVID-19 patient.
For the first year activity, INSPIRASI will measure the gaps of Indonesia surveillance system and the preparedness to prevent the potential outbreak event. Together with the Ministry of Health we will improve the province / districts surveillance capacity to identify and respons to public health threat.
B. OBJECTIVES
Identify Gaps in Indonesia Surveillance System, range from early detection procedures, surveillance registration, case reporting, analysis and dissemination of feedback on surveillance results to the public
Assess the ability of PHEOC at the provincial level in dealing with an epidemic or pandemic
Assess the routine immunization coverage activities by comparing service data for 2018 - 2020.
The implementation of national academic discussions and work area distribution on infectious disease surveillance in Indonesia.
Disseminate the results of gap study on disease surveillance in Indonesia.
Training for province and districts surveillance and utilization of data surveillance for early outbreak detection.
Conducting interoperability data surveillance improvement with PUSDATIN and MoH.
C. ACTIVITY TIMELINE
Activity 1.1 :
Identify gaps in MOH surveillance response to public health threat

Time
A. TOR Finalization and coordination
2 – 8 November
B. Ethical clearance proposal entry
2 – 15 November
C. Validate focus group discussion and indepth interview question
2 – 15 November
D. Develop interview guideline
16 – 22 November
E. Interviewer training
23 Nov – 6 December
F. Initial meeting with MoH
30 Nov – 6 December
G. Interview with respondent
7 – 27 December
H. FGD with 5 Provinces
14 Dec – 3 January
I. Quantitative data gathering from MoH and public report
23 Nov – 3 January
J. Develop data analysis and verbatim
4 – 17 January
K. Initial report
11 – 17 january
Activity Details 1.1
TOR Finalization and Coordination
This activity has been conducted by compiling several activities which are later incorporated in the Inspiration Project (Improving Quality of Disease Preparedness, Surveillance and Response in Indonesia). The objectives are to increase the detection, prevention and response Ministry of Health capacity, increase interconnectivity of the capacity to handle natural and non-natural disasters for BNPB and BPBD at provincial and district levels, and increase interoperability data surveillance to districts.
Ethical Clearance Proposal Entry
Activities conducted to meet requirements for conducting research are submitted to the Ethics Commission of FK KMK UGM
Validate Focus Group Discussion and Indept Interview Question
Before data collection, activities were carried out to validate the question points to be asked
Develop Interview Guidline
Preparation of in-depth interview guidelines that refer to validated question points. A guide is useful for guiding data retrieval
Interview Training
It was conducted online on 28th and 30th November 2020, with instructor as qualitative research expert lecturers at the FKKMK UGM.
Initial Meeting with MoH
This initial meeting between Inspirasi Project team and the Ministry of Health, was held to provide an explanation of the concepts and research activities.
Interview with Respondent
Activities have been carried out through zoom application, interviews were conducted with BNPB, Kementrian Kesehatan (P2P), Pusdatin to understand the gaps that occur when natural health disasters
FGD with 5 Provinces
Focus group discussions were carried out through zoom application, this activity was carried out to BPBD and Dinas Kesehatan Papua, South Sulawesi, Daerah Istimewa Yogyakarta, Nusa Tenggara Timur
Quantitative Data Gathering from MoH and Public Health
Data sourced from Sistem Kewaspadaan Dini dan Respon (SKDR) from Dirjen Pengendalian Penyakit dan Penyehatan Lingkungan is processed to know completeness and accuracy of reporting.
Develop Data Analysis and Verbatim
Data collected through in-depth interviews and focus group discussions were analyzed and reported in a systematic format.
Initial Report
After conducting qualitative and quantitative analysis, for the first a simple report will be carried out regarding gaps that occur in the surveillance and outbreak disaster preparedness systems.
Activity Details 1.2
TOR Finalization and coordination
An internal coordination between UGM team and Project HOPE.
National academic discussion forum on defining entity working area in surveillance system
A national disccussion forum that invites all provincial and district health official in Indonesia. The objectives is to have a general exposure of INSPIRASI program from 2020 ~ 2025. Expert from UGM will explain the best practice of public health surveillance from academic perspective and the possibility of Indonesia to achieved those goals. The participants will expected to give an opinion or input towards the program or standards.
Internal meeting UGM – Project HOPE
An internal meeting discussing the progress and the details for one year period.
Coordination meeting UGM – Project HOPE – CDC
Coordination meeting with CDC to discuss the details, goals, and program administration.
Coordination meeting CDC – UGM – Project HOPE with PUSDATIN – P2P
Coordination meeting between UGM, CDC, Project HOPE and MoH (PUSDATIN and P2P) on Scope of service between UGM and MoH. This meeting will finalize the program detail on plan, system mapping, surveillance data interoperability, surveillance staff training and PHEOC development.
Results of assessment on surveillance and PHEOC gaps in Indonesia
Report the results on identifying surveillance and PHEOC gaps in Indonesia.
Seminar for the PHO and DHO on the usage of surveillance data for early outbreak detection (2 days)
Online seminar that invites provincial and districts public health officie to discuss the utilization of surveillance data to prevent the outbreak. We will also invites the expert from Taiwan to explain the tracing and monitoring COVID-19 in Taiwan.
Activity 1.3:
Integrate MOH data source from disease surveillance using web portal*

Time
A. TOR Finalization and coordination
11 – 17 January
B. Systems mapping and interoperability architecture development and design*
30 January
C. Workshop data sharing agreements and protocols in line with the existing system from local to national*
12 January
D. Technical assistance in Jakarta to strengthen the current web-based surveillance data entry platform*
13 January
E. Working together with expert, PUSDATIN and P2P directorate in MoH develop interoperability architecture design. (4~5 months)*
14 January
* Details of the activities will be discussed with Project HOPE in Jakarta on Jan 12th including the design and timeline. Changes in date or timeline will effect the following activities.  
Activity Details 1.3
TOR Finalization and coordination
An internal coordination between UGM team and Project HOPE.
Systems mapping and interoperability architecture development and design
Meeting with selected stakeholder to conduct system mapping to look at the current interoperability system architecture. The aim of the system mapping is to show the components and boundaries of those components at a specific point in time. The goal of system mapping is to describe the current state of electronic components that are currently used by different stakeholders. The following activities need to be considered: List main stakeholders, List current stakeholder systems, List outputs from each stakeholder system List inputs from each stakeholder system, List processes that link the Inputs and the Outputs, Identify any linkages between stakeholders, Outline the main system components and their boundaries, Review of the system map document, Revise the system map document.
Interoperability activities will be, List current data exchanges, List desired data exchange needs, Describe data exchange needs as use cases, Prioritize use cases for interoperability Identify possible solutions for interoperability, Design interoperability architecture, Review detailed design document, Revise the detailed design document.
Workshop in the data sharing agreements and protocols in line with the existing system
Discussing the obstacles and solutions on data sharing between agencies inside the ministry of health. This discussion will be consist participant from the Ministry of Health, Provincial Health Office, and District Level Health Office.
Technical assistance in Jakarta to strengthen the current web-based surveillance data entry platform
UGM and Project HOPE will conduct the system mapping in Jakarta and discuss with PUSDATIN and P2P to measured the obstacles in recording disease surveillance.
Working together with expert, PUSDATIN and P2P directorate in MoH develop interoperability architecture design)
Discussion with website vendor / teams at PUSDATIN on indentification database structures on the surveillance website of the Ministry of Health and discussing the possibility of compiling the surveillance aggregate reports on the website that owned by Ministry of Health. http://www.onehealth-size.id/guest , or www.Satudata.kemkes.go.id