Memilih Indikator Tepat untuk Menilai Mutu Layanan Bidan
Bidan belum menjadi pilihan utama masyarakat untuk memberi pelayanan kebidanan. Di perkotaan, masyarakat lebih memilih dilayani dokter spesialis. Bidan bisa terus kalah saing bila tidak memperbaiki mutu layanan.
Padahal, bidan merupakan salah satu ujung tombak pelayanan kesehatan di Indonesia. Pelayanan bidan tidak hanya terbatas pada membantu proses persalinan, tetapi juga dalam menjaga kesehatan umum dan reproduksi. Bidan dituntut untuk memiliki kompetensi yang memadai dalam menjalankan fungsinya. Tuntutan ini tidak hanya muncul dari kebutuhan pasien tetapi juga sebagai dampak program Masyarakat Ekonomi Asean (MEA) yang dimulai 2015 ini. MEA menciptakan suasana persaingan dalam sektor ekonomi yang merambah ke sektor kesehatan.
Bidan juga harus siap meningkatkan mutu layanan agar dapat bersaing dengan tenaga kesehatan lainnya. Dalam proses peningkatan mutu ini, kualitas layanan bidan harus selalu terukur dalam kegiatan monitoring dan evaluasi. Perlu indikator-indikator tepat sebagai alat ukur untuk menghasilkan penilaian mutu yang objektif.
Mieneke De Bruin-Kooistra dkk., melakukan penelitian untuk mengidentifikasi indikator mutu layanan bidan. Tim peneliti menganalisis berbagai indikator potensial dari literatur, pedoman nasional, dan pendapat ahli. Penelitian menghasilkan 26 indikator sebagai alat ukur relevan untuk layanan bidan (tabel 1). Dua puluh enam indikator ini terbagi menjadi delapan item indikator struktur, 12 indikator proses, dan 6 indikator outcome. Indikator-indikator ini telah melalui uji kriteria instrumen Appraisal of Indicators through Research and Evaluation (AIRE) dan dikritisi lebih lanjut oleh panel Delphi.
Tabel 1. Indikator Mutu Terpilih untuk Monitoring dan Evaluasi Layanan Bidan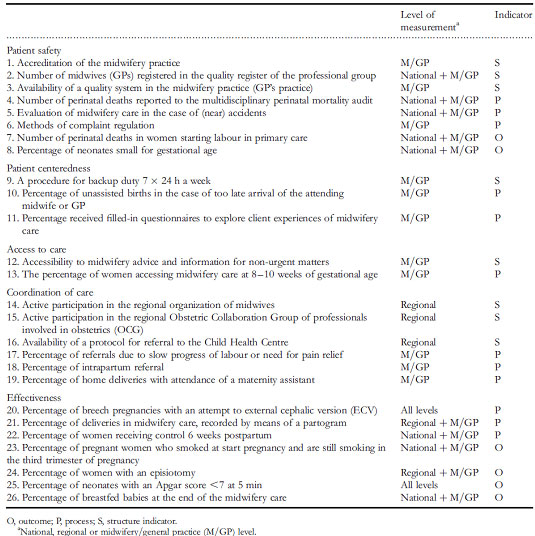 Dua puluh enam indikator ini dibagi dalam kategori keselamatan pasien, keterpusatan pada pasien, akses terhadap pelayanan, dan efektivitas layanan. Seluruh indikator juga telah ditetapkan tingkat pengukurannya yaitu nasional, regional, serta bidan/dokter praktek umum. Daftar indikator ini juga dilengkapi detil spesifikasi yang mencakup domain kritis, definisi operasional, hingga cara pengukurannya. Indikator ini dikembangkan untuk menilai layanan bidan pada pasien-pasien resiko rendah.
Pelayanan maternal adalah contoh pelayanan yang berorientasi outcome dengan tujuan utama yaitu ibu dan bayi yang sehat. Namun, mengapa indikator outcome dalam daftar ini justru menempati porsi kecil? Peneliti berasumsi bahwa outcome yang baik hanya akan tercapai dengan proses pelayanan bermutu dan sesuai protokol yang disepakati. Contohnya adalah Apgar score yang merupakan alat ukur keluaran neonatal (indikator outcome). Dalam rentang 1-10, skor di bawah 7 (5 menit setelah lahir) dianggap sebagai keluaran yang buruk sebagai hasil pelayanan substandar.
Untuk mencegah hal ini, ibu hamil harus mengakses pelayanan kebidanan pada masa awal kehamilan agar mendapat pelayanan antenatal yang optimal (indikator proses 9). Agar dapat memberi pelayanan bermutu tinggi, bidan harus memiliki kompetensi baik (indikator struktur). Bidan juga harus melaksanakan pelayanan 24 jam/7 hari seminggu (indikator struktur) untuk mencegah kelahiran tanpa pendamping (indikator proses). Kaitan antar indikator ini menunjukkan satu indikator outcome dapat dipengaruhi oleh lebih dari satu indikator struktur dan proses.
Indikator yang direkomendasikan de Bruin-Kooistra mungkin masih perlu penyesuaian untuk kondisi Indonesia. Alasannya, pemilihan indikator yang tepat merupakan kunci dalam proses monitoring dan evaluasi mutu layanan bidan Indonesia. Indikator yang tepat dapat menghasilkan penilaian mutu layanan bidan yang akurat untuk menyusun program selanjutnya. Jika ternyata mutu bidan sudah baik, perlu upaya menjaga mutu. Sebaliknya, bjika mutu layanan bidan masih buruk, perlu program peningkatan mutu misalnya dengan peningkatan kompetensi bidan.
Text: drg. Puti Aulia Rahma, MPH
Sumber: Mieneke de Bruin-Kooistra, Marianne P. Amelink-Verburg, Simone E. Buitendijk, and Gert P. Westert, Finding the right indicators for assessing quality midwifery care, International Journal for Quality in Health Care 2012; volume 24, number 3: pp. 301–310.
http://intqhc.oxfordjournals.org/content/intqhc/24/3/301.full.pdf