ISQua's 30th International Conference, 13-16 Oktober 2013 : Quality and Safety in Population Health and Healthcare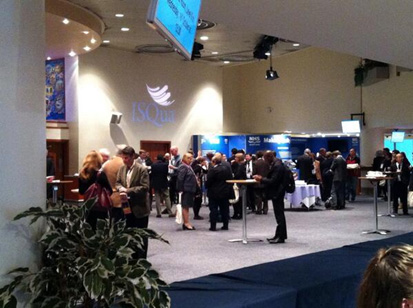 ISQua (The International Society for Quality in Health Care) merupakan organisasi nirlaba, independen yang berdiri pada tahun 1984 memiliki misi mempromosikan, mendukung perbaikan terus menerus dalam keselamatan dan mutu pelayanan kesehatan di seluruh dunia.
ISQua pada tanggal 13-16 Oktober 2013 mengadakan konferensi Internasional ke 30 di Edinburgh dengan tema quality and safety in population health and healthcare. Konferensi ISQua ini dihadiri lebih dari perwakilan 70 Negara dengan 1.000 delegasi yang salah satunya konsultan dari Pusat Kebijakan dan Manajemen Kesehatan (PKMK) FK UGM, dr. Tjahjono kunjoro, MPH, DrPH.
Konferensi ini terbagi 9 area yaitu Governance, Leadership and Health Policy; Patient Safety; Improving Population Health; Patient and Family Experience, Engagement and Coproduction; Accreditation and External Evaluation Systems; Education in Safety and Quality; Quality & Safety in Transitional and Developing Countries; Health Information Technology; Measuring Service Performance and Outcomes.
Berikut ini adalah reportase selama tiga hari pelaksanaan konferensi dalam bentuk ringkasan apa yang disampaikan oleh para narasumber menurut pandangan penulis.
Reportase kegiatan ISQua: