You can get quality elder care but be prepared to pay for it
If you live in a state with high-quality care for older Americans, chances are the cost of it isn't so great.
Data in a new report by Caring.com shows that seven of the top 10 states for quality elderly care also rank in the bottom 20 for the cost of those services.
"There's a trade-off," said Tim Sullivan, Caring.com vice president. "In some states, the quality of care is high, but so are the costs."
Coming in first for quality of care is Washington, yet it ranks 38th for cost. Alaska, which ranks right behind the Evergreen State, comes in last place in the expense column. Rounding out the top three for quality is Oregon, which ranks 39th when it comes to price.
The best and the worst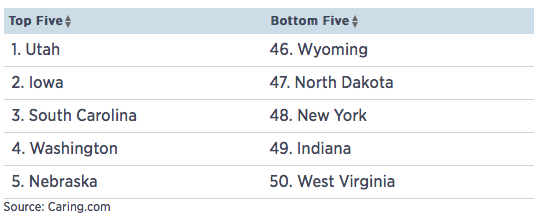 Conversely, some states have low costs but their quality is lacking. For example, Alabama has the least-expensive care but ranks 44th for quality. Additionally, the Northeast showed generally higher costs and lower quality scores in the report.
The study used various statistics including nursing home costs, in-home care prices and elderly well-being assessments to arrive at its rankings. First overall is Utah, followed by Iowa, South Carolina, Washington and Nebraska. The bottom five include Wyoming, North Dakota, New York, Indiana and West Virginia.
The differences in cost for various services can be stark. For instance, the average annual cost of nursing home care in Alaska is $281,415 compared with $63,875 in Utah, according to a 2015 study by Genworth Financial.
Sullivan said that given the varying levels of quality and care offered across the country, it's important to start giving thought to options long before elder care services are needed.
Quality at a cost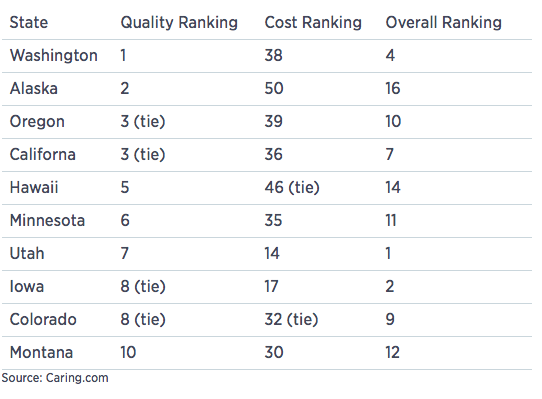 On average, an American turning 65 today will spend $138,000 in future long-term care costs, according to the Health and Human Services Department. Such services include help with daily activities like bathing and eating, which about 50 percent of people will eventually need.
In general, Medicare, which most people register for at age 65, does not cover long-term care. For retirees who do end up needing such services, the costs can be eye-popping.
The average yearly cost of a nursing home is $82,000, according to the Kaiser Family Foundation. Home-based care, depending on the level of services needed, can hit more than $3,000 a month. So can the cost of an assisted-living facility.
If you have aging parents, starting a conversation early about their eventual plans. Beyond the financial preparation, there's the emotional aspect of getting ready for a time when they might experience a loss of independence.
"You don't want to wait until there's a precipitating event, like a fall or the onset of dementia," Sullivan said.
At that point, the abruptness of changing how they live their life might cause the conversation to go poorly, regardless of whether it's because the parent needs around-the-clock nursing home care or a daily in-home nurse.
"The earlier you can plant the seeds and let them think about it, the more chance you'll have a good outcome," Sullivan said.
By: Sarah O'Brien
Source: https://www.cnbc.com/