Hospital ship brings quality to healthcare to remote areas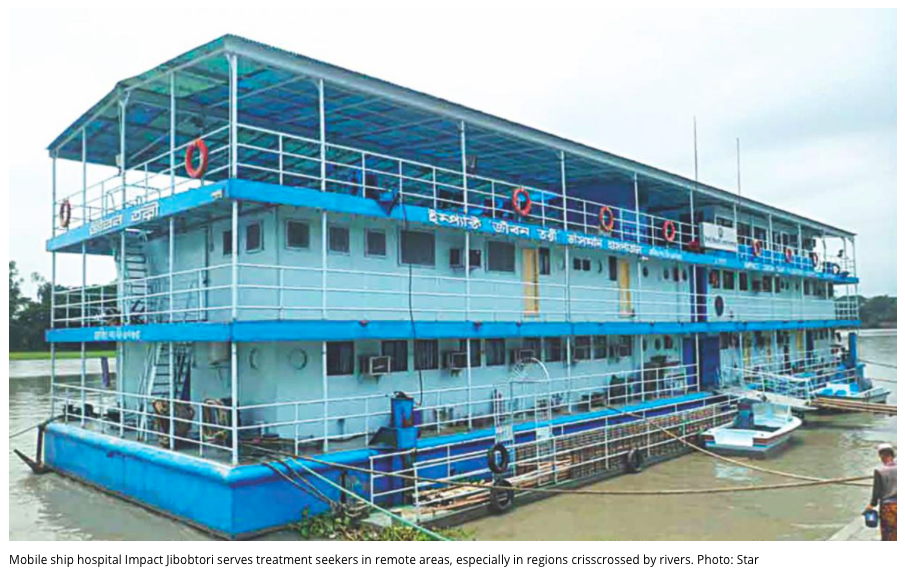 In Patuakhali's riverside communities accessing modern healthcare can be quite a challenge, particularly if specialist consultation is required.
The 'Impact Jibontari' is a forty-foot long, three-storied ship that functions as a hospital. It specialises in eye treatment, along with ear-nose-and-throat and disability services. In delivering much-needed medical care to remote communities at minimal patient cost, the floating hospital is indeed having an impact, improving many lives.
From 8 May 2017 until early August the Impact Jibontari was anchored on the Shreemonto River at the well-known shrine of Earuddin Khalifa in Mirzaganj upazila.
More than 8,000 patients attended the ship for consultation and treatment during its stay.
"I came to the shrine with my daughter who had severe ear pain," says Hasina Begum of Patuakhali town. "We went to the floating hospital and the on-duty doctor was able to offer treatment on the spot. It only cost Tk 40."
"My mother was suffering an eye disease," says Amena Begum from Amragachi village in Mirzaganj. "It would've been too costly to take her to hospital in Patuakhali so we brought her to the ship. She had an operation done on her right eye."
According to the floating hospital's administrator Md Alauddin, around 162 operations were performed aboard the ship in Mirzaganj. "We also provided health awareness training to students, midwives, primary school teachers, imams and community leaders," he says.
Constructed in 1999, the Impact Jibontari houses a modern operating theatre, fourteen beds and a dispensary. It has two speedboats and an ambulance available for patient transport. A cataract operation requiring a three-day stay at the hospital costs a very reasonable Tk 3,000, with food, medicine and all services included.
"Many people from our remote villages take advantage of the ship's services," says the upazila nirbahi officer in Mirzaganj, Shah Mohammad Rafiqul Islam. "It's very helpful.
And the treatment they get onboard the ship is even better than they could expect at a district-level hospital."
Source: http://www.thedailystar.net/