Affordability and Quality Key to Future of Value-Based Care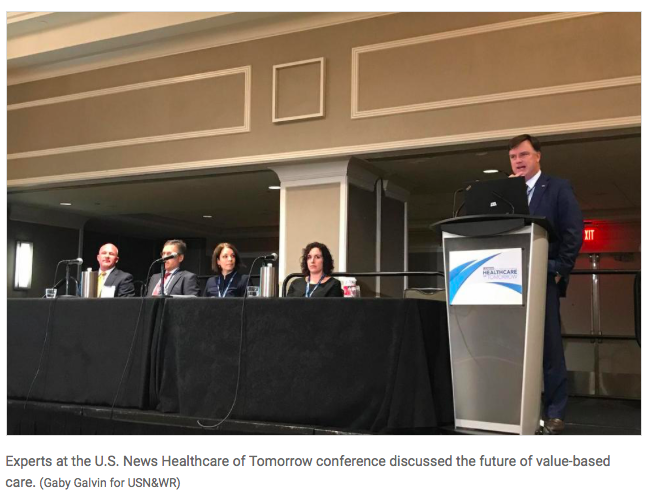 Providers must balance costs with quality, panelists said at the Healthcare of Tomorrow conference.
As federal health care policy remains uncertain, health care providers, payers and consumers
are closely watching the industry to determine the future of value-based care.
Dr. David Carmouche, senior vice president of Ochsner Health System and president of the Ochsner Health Network, moderated a panel with four health care delivery experts on the future of value-based care at the U.S. News Healthcare of Tomorrow conference Nov. 2 in Washington. Below are excerpts from the discussion.
Robert Allen, an executive at Intermountain Healthcare, a not-for-profit health system based in Utah:
Affordability and patient experience are key as providers begin taking on risk and shifting their approach to health care delivery, Allen said.
"'How do people experience health care?' is a question we need to think a lot about moving ahead," Allen said. "That is going to need to drive how we structure ourselves, how we deliver our services and how we think differently about who we are."
The biggest barriers to the value-based model, he said, are getting providers to think differently about delivery and adjusting the mechanisms of care payment.
In the future, Allen thinks virtual visits – phone calls and video chatting sessions – will become increasingly popular to reduce the amount of time patients must spend in doctors' offices.
"People are going to find the services that meet them where and how they want to be met, and it may not be the local providers anymore," he said.
Dr. Harlan Levine, an executive at City of Hope, a comprehensive cancer center based in southern California, and the City of Hope Medical Foundation:
Levine, who works in oncology, discussed the challenges of value-based care in oncology.
While many health conditions can be managed by good self-care, nurses and other health professionals – without much interaction with a primary care doctor – many cancer patients need the expertise of a specialized doctor, especially as the condition becomes increasingly complex, he said.
"The first intervention in a cancer patient is life altering and often times the best opportunity to cure somebody is the first opportunity," Levine said. "And therefore getting people with some cancers to the right doctor up front is very important."
Oncology costs can be in the hundreds of thousands of dollars and are growing rapidly, so providers and consumers alike must weigh both the value and the cost of high-quality care.
"Where we start is what's in the patient's interest: Survival, quality of life and function. Those are the priorities to us," he said.
Dr. Leora Horwitz, who leads health care innovation and delivery at NYU Langone Medical Center and NYU School of Medicine and is an associate professor of population health and of medicine at NYU:
Clinical care is just one role of academic medical centers – they must also focus on research and education, which can both help and hinder their ability to deliver affordable, high-quality value-based care, Horwitz said.
Just 5 percent of the approximately 4,800 U.S. hospitals are academic medical centers, but they treat a quarter of uninsured or Medicaid patients, she said. This has posed an increasingly complex challenge as federal funding for research and education, as well as clinical revenues, have remained flat or declined in recent years.
But academic medical centers are uniquely positioned because of their ability. She added that the Langone Medical Center has successfully implemented several plans from residents to streamline operations and improve care.
"It's like the Wild West out there" with new products, tools and innovations, she said, and academic medical centers can help determine what works.
Pauline Lapin, a director at the Center for Medicare and Medicaid Innovation:
Lapin stressed the importance of transparency in prices and results, as well the as data-based effectiveness of new alternative payment models. Some of the models the Innovation Center is interested in testing include expanding participation in advanced alternative payment models, direct primary care payments, lowering costs of prescription drugs and encouraging innovation in Medicare Advantage plans.
Because the Innovation Center is funded by taxpayer dollars, the organization will only pursue a new payment model if they expect it will maintain costs while improving quality or reduce costs while maintaining quality, so proposals must be proven to be effective and backed up by data, Lapin said.
"There's a lot of room for innovation at the state and local level, given the flexibility they have," she said.
By: Gaby Galvin
Gaby Galvin is a staff writer at U.S. News & World Report. You can follow her on Twitter and email her at This email address is being protected from spambots. You need JavaScript enabled to view it..
Source: https://www.usnews.com/