Many care home beds below standard, new research reveals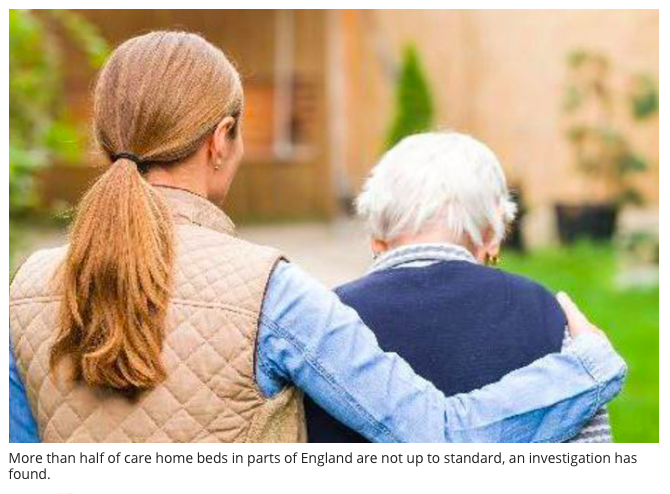 More than half of care home beds in parts of England are not up to standard, an investigation has found.
Some 50 per cent of beds - or more - are in homes rated as needing improvement or inadequate in six local authority areas, Which? analysis of Care Quality Commission (CQC) data has found.
The lack of good quality care is particularly acute in the London borough of Westminster, where seven in 10 beds (69 per cent) were found in care homes rated as below standard. In Manchester and Wakefield, three in five beds (58 per cent) are in below-standard homes, closely followed by Kirklees (57 per cent), Portsmouth (56 per cent) and Tameside (55 per cent). In total, nearly a third of local authority areas, or 45 councils, have one in three beds or more in poor-quality care homes.
Nine of these are in the capital and include Tower Hamlets (48 per cent), Islington (47 per cent), Kensington and Chelsea (46 per cent), Newham (41 per cent), Haringey (41 per cent), Barnet (40 per cent), Ealing (35 per cent) and Harrow (33 per cent).
At least nine in 10 care home beds are in homes rated as good or outstanding in a small number of areas, including the Isles of Scilly (100 per cent) Richmond upon Thames (94 per cent), Rutland (91 per cent) and Blackburn with Darwen (90 per cent).
Which? said the analysis highlighted the "huge" regional variation in the provision of quality local care across the country. The watchdog warned that the situation could rapidly worsen as demand starts to outstrip supply in an increasing number of local areas. Previous Which? research found that almost nine in 10 council areas across England were predicting a shortfall in care home places by 2022.
By: Sarah Marshall
Source: https://www.thestar.co.uk/