WHO calls for further efforts to enhance patient safety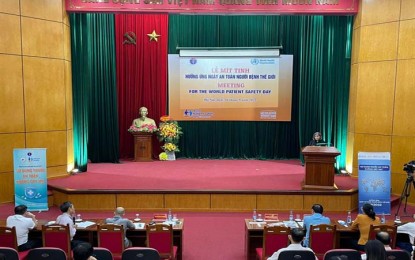 HANOI – The World Health Organization (WHO) called for further efforts and actions to enhance patient safety at a meeting in Hànoi on September 16, marking Patient Safety Day 2022 (September 17). At the event, participants heard that unsafe medication practices and medication errors are leading causes of avoidable harm in health care across the world.
Medication errors occur when weak medication systems and human factors such as fatigue, poor environmental conditions, or staff shortage affect prescribing, transcribing, dispensing, administration, and monitoring practices, which can then result in severe patient harm, disability, and even death.
"Medication errors can occur at every stage of the treatment and management process and thus the tools to prevent, monitor and address them should be made available in each stage of the process. Every health worker must be given the support to enable them to make informed and right decisions in the management and care of the patient, including in prescribing and administration of medications," Escalante Socorro, Acting WHO Representative in Vietnam, said.
"Medication safety requires multiple interventions that focus on the availability of safe, effective and quality-assured medicines at all levels of health care; supporting health professionals to be adequately trained, to work as a team to be able to effectively communicate care and report; building a strong system for medication with strong supervision across the health system, involvement of the patient and the public in reporting medication errors," he added.
Socorro also highlighted the efforts of Vietnam in improving patient safety, adding that the WHO will continue to join Vietnam in making medication safety and improving the health outcomes of its citizens.
The World Patient Safety Day aims to increase public awareness and engagement, enhance global understanding, and work towards global solidarity and action to enhance patient safety and reduce patient harm.
This year's World Patient Safety Day global campaign prioritizes early intervention to prevent harm to patients from unsafe drug-related behaviors.
These behaviors include risk-taking situations in care, such as taking too many medications and taking drugs that look alike, sound-alike (LASA).
The campaign will also focus specifically on the impact of the Covid-19 pandemic on drug safety, related to the severe disruptions in the delivery of health services during the pandemic.
In recent years, the Ministry of Health has issued many documents to contribute to improving the quality of medical examination and treatment, such as the Vietnam Hospital Quality Criteria, the circular on guiding the prevention of medical incidents in medical examination and treatment establishments, the document implementing six patient safety goals of the WHO.
These documents have been actively brought into effect, contributing to making the medical facility environment becomes safer, according to the health ministry's Medical Services Administration. (VNS)
source: https://www.pna.gov.ph/articles/1183925