Artificial intelligence and telehealth creating a holistic public healthcare system in India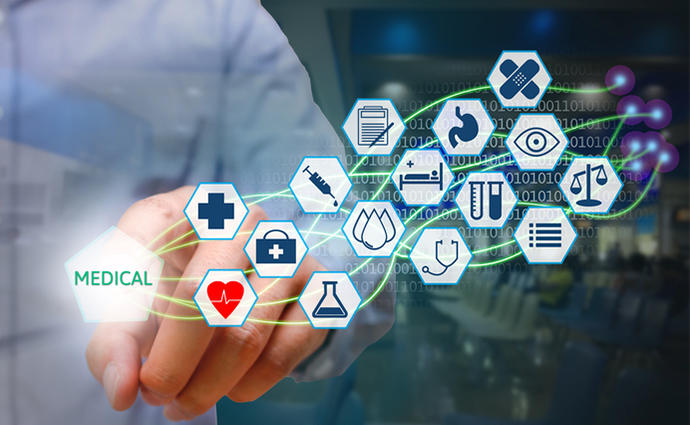 1. How key emerging healthcare technologies can transform public health?
Government's Ayushman Bharat Digital Mission renewed the focus on India's healthcare system. As a result, it is now critical for public health care to embrace technological innovations and digitally-enabled services offered by different private players in the industry.
Artificial intelligence and telehealth are gaining momentum in India as they promote rapid and reliable data analysis. In addition to this, emerging technologies extend unexplored avenues for establishing networks and collaboration between healthcare centres. Nowadays, Teleradiology is witnessing substantial traction since its benefits can be leveraged by the public healthcare system through shared access, expanding the reach of specialty diagnosis, enhancing emergency radiology services, and eventually benefiting and improving patient care.
Our work in Tripura equipped us with valuable insights into the potency of collaboration. We were able to manage the radiology diagnostic requirements of an entire state by incorporating low-cost digitization tools, training the last-mile providers, and building a cloud-based Teleradiology reporting infrastructure. We also made sure that best-in-class diagnostics were provided by specialists based out of the metro cities.
2. How can we leverage health-related data to improve information dissemination and healthcare delivery?
The amount of data generated across various healthcare systems due to the usage of new-age diagnostics and imaging is enormous. However, making this data obtainable in a structure which allows it for real-time data analysis, storage and correlation is the real game changer. AI and NLP-based data analysis will grant for longitudinal data studies. Also, it is important to make population health dynamics available at the point of care to improve clinical outcomes. This data dissemination in a structured manner will enable better healthcare delivery, disease prevention and will permit drug discovery programs to scale.
3. What are the potential challenges to health technologies (privacy concerns, breach of health data, etc.)?
As hospitals and medical centres start incorporating digital innovations in their workflow, we will witness the availability of patient data across the Cloud and other platforms in the coming days. While it can be beneficial for creating a holistic healthcare system, security can be a concern as the patient's data might be confidential and sensitive.
At Teleradiology Solutions (TRS), we have in-built data security in our services and ensure all the necessary measures are adopted, in terms of access and control. Only authorized experts should be able to obtain the health data of a patient and they must avoid any breaches. Like digital banking systems, multi-factor authentication should become a criterion for accessing global health records.
The lack of a compliant framework for companies dealing with public records is also an issue. As the health tech industry grows, setting a better and compliant infrastructure becomes more crucial to strengthen cyber resilience.


4. What are the challenges in Radiology and how digital technology can be employed to provide quality care?
The specialty of radiology is faced with three key challenges – radiologist shortages, increased imaging workload and complexity, and increasing expectations with regard to radiologist accessibility and availability. Consequently, this has accentuated the perceived workforce shortages.
There is an increase in the number and complexity of imaging scans being conducted, while the number of radiologists has not increased in the necessary proportion. As a result, it translates into delays in reporting scans and potential quality issues. To simplify the scenario, in an emergency setting, when a patient comes to a hospital with an acute condition and a scan is performed, there may not be a radiologist available at the hospital to report it.
Technology has always been an integral part of any healthcare solution. The way forward is how technology can be used as a point of care, not only by the healthcare providers but also by the users. The value of the Teleradiology model and its impact on an increase in reporting efficiency is being perceived worldwide.
Image digitization to overcome the challenge of legacy analog images which are still dominant in the primary care setting, as well as the usage of low-cost router technology such as our Telerad Tech's RADSpa that allows for efficient image upload to a cloud-based infrastructure for methodical Teleradiology reporting can enable quality care. Our Tele 3D Imaging services offers accurate image interpretation with better 3D visualization. This enables more insightful imaging diagnosis and enhanced patient treatment.
5. How TRS is detecting abnormalities with their AI-enabled software?
Artificial Intelligence is currently conquering the healthcare industry to improve existing solutions and overcome the challenges faced by healthcare providers. The radiology sector is also driven by AI-enabled software since radiologic images are digital, making them eligible for computer analysis using deep learning algorithms to detect distinctive patterns.
Neural Assist, our in-house developed AI deep learning algorithm is known for its rapid processing capability and can detect any hemorrhage within the brain with a high level of accuracy. When integrated with our proprietary RIS application called RADSpa, the Neural Assist algorithm can increase the efficiency of the radiologists and can reduce burnout rates and overall Reporting TAT.
MammoAssist, another AI-powered product under TRS can detect early-stage breast cancer. MammoAssist examines a mammogram and processes the imaging data to identify radiologic features of early-stage breast cancer. It then further classifies it for BIRADS Scoring with a full-fledged structured template that is made available to a radiologist who corroborates the mammography findings and issues the official report.

6. Teleradiology Solutions' business operations globally
We started our journey in 2002 and currently are providing Teleradiology services like CT, MRI, X-ray, Ultrasound, etc. to over 150 hospitals in 25 countries globally. We provide clinical remote radiology services in North America, primarily in the United States, the Middle East, Africa and Asia regions, growing 30% YoY worldwide. We have over 135 RADS across the globe, doing more than 2000 scans per day.
This includes the United States, Singapore, Nigeria, Tanzania, Uganda, Maldives and remote parts of India.
We are the first organization outside Singapore to be accredited by the Ministry of Health, Singapore and are providing Teleradiology services to Singapore since 2005. We are rated as the Number 1 National Teleradiology company in the United States and 'Best in KLAS' by an independent healthcare surveyor in the United States in 2011 and have been accredited by the US Joint Commission for Accreditation of Healthcare Organizations (JC) for over a decade.

Read more at: https://www.cxotoday.com/interviews/artificial-intelligence-and-telehealth-creating-a-holistic-public-healthcare-system-in-india/