Strive For Excellence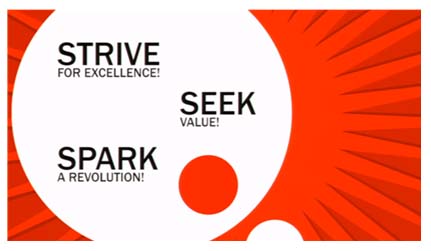 "Striving for excellence" adalah bagian penting dari sikap profesional, yaitu berusaha sekuat tenaga untuk mengutamakan mutu, bekerja sebaik mungkin meski terdapat berbagai hambatan, berupaya mencapai yang terbaik (bukan nomor dua terbaik), bekerja dengan semangat dan dengan perasaan senang dan bangga serta juga ikut senang dan bangga kepada orang lain yang bekerja dengan excellence.
Pemahaman ini penulis dapatkan ketika mendengarkan sesi keynote 1 dari Maureen Bisognano, President and CEO, Institute for Healthcare Improvement, USA. Sesinya penuh dengan semangat menyelesaikan masalah, tidak hanya berbicara teori dan identifikasi masalah namun lebih banyak kepada solusi baik yang telah dilakukan maupun yang masih dalam bentuk usulan. Sesinya penuh dengan "striving for excellence"
Tanpa bermaksud mengecilkan para pembicara serupa didalam negeri, para pembicara di forum ini yang sebagian besar berasal dari Eropa dan Amerika, memang terbiasa dengan budaya kerja keras untuk mencapai sesuatu yang luar biasa. Budaya ini mempengaruhi gaya pembicara dimana pada forum ini sebagian besar pembicara mengungkapkan berbagai inovasi dan hasil yang didapat. Hal ini (mungkin) berbeda dengan budaya kita yang sering menerima pencapaian rata-rata sehingga sering pembicara kita sekedar menceritakan teori ataupun permasalahan.
Bisognano mengusulkan berbagai inovasi yang relatif baru dalam upaya peningkatan mutu, namun sebelumnya ia menyampaikan perubahan mental model yang seharusnya sudah dialami bagi para pemimpin bidang kesehatan dari tahun 1980an hingga tahun 2010an baik yang terkait dengan kepuasan pasien, keterlibatan klinisi, pengendalian biaya dan pengukuran kinerja .
Perubahan mental model para leadership tersebut sepertinya diusulkan oleh Bisognano dengan latar belakang yang sama dengan terbitnya Affordable Care Act atau juga sering disebut sebagai Obamacare, yaitu masalah mutu dan biaya (pada titik ini penulis merasa bangga juga sebagai bangsa Indonesia yang sudah memiliki Jaminan Kesehatan Nasional, yang akan mencakup seluruh rakyat indonesia, yang memiliki nasional single payer healthcare", yang memiliki sistem pembayaran prospektif payment yang seharusnya dapat mendorong mutu dan efisiensi).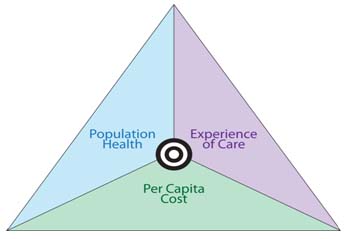 Untuk keluar dari masalah tersebut IHI telah mengajukan konsep Triple Aim, dimana para profesional dibidang kesehatan diharapkan dapat menempatkan diri pada titik ditengah segitiga IHI yaitu sebagai koordinator yang dapat membuat keseimbangan antara status kesehatan masyarakat, kepuasan pasien dalam pelayanan kesehatan dan biaya kesehatan (penulis akan menyusun artikel mengenai hal ini dan akan segera dimuat di web www.mutupelayanankesehatan.net )
Untuk dapat mencapai Triple Aim tersebut Bisognano mengusulkan agar pengelola pelayanan kesehatan menggunakan pendekatan "Escape Velocity", sebuah istilah yang diambil dari penerbangan roket di luar angksa, yaitu batas kecepatan yang dibutuhkan sebuah roket untuk dapat keluar dari orbitnya. Dalam mutu pelayanan kesehatan, pendekatan ini digunakan untuk mencari upaya yang dapat membuat tingkat mutu melejit keluar orbit yang bisa-bisa saja menjadi excelent, sebuah peningkatan mutu yang bukan sekedar naik 10% namun peningkatan mutu yang bisa mencapai 10 x lipat (metode ini diadopsi dari dunia pendidikan, baca lebih lanjut pada berita-berita dengan kata kunci "turning classroom upside down" atau "flipped education").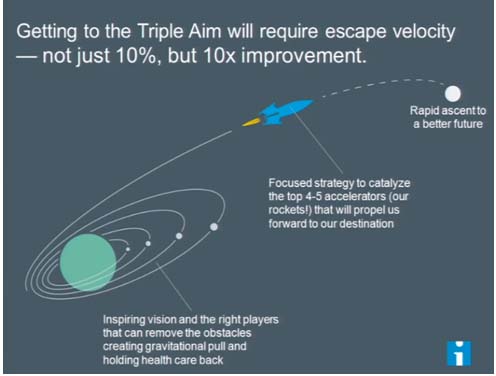 Usulan inovasi lain dari Bisognano adalah mengkaitkan mutu dengan keuangan melalui Time-Driven Activity Based Costing (TD-ABC) yang saat ini sedang diujicobakan oleh IHI bekerjasama dengan Prof Kaplan dari Havard University untuk operasi penggantian sendi untuk meningkatkan outcome sekaligus menurunkan biaya (catatan: Banyak sekali metode-metode quality improvement yang disampaikan dalam forum ini oleh pembicara dari atau yang berafiliasi dengan IHI, penulis menangkap kesan bahwa IHI menggunakan forum ini juga sebagai media promosi untuk membangun "bisnis" mereka yaitu sebagai partner quality improvement. Mungkin IHQN dan PKMK bisa menggunakan pendekatan IHI ini terutama untuk memastikan seluruh kegiatan tercatat dan tersosialisasi dengan baik).
Berbagai usulan tersebut kemudian dijabarkan dalam bentuk implementasi oleh berbagai pembicara lain yang penulis ikuti, yaitu:
1. Peningkatan Outcome Pelayanan Kasus-Kasus Kronis.
Vickie Kaminski, President and CEO, Eastern Health, Newfoundland and Labrador and Chair, Atlantic Healthcare Collaboration (AHC) Executive Committee, Canadian Foundation for Healthcare Improvement, Canada menyampaikan mengenai membangun kolaborasi untuk tatalaksana diabetes melitus antara keluarga dengan sistem kesehatan. Kaminski menjelaskan bahwa model yang mereka kembangkan terdiri dari Integrated Chronic Care Service, Community Health Teams dan Diabetes Management Centre.
Peningkatan outcome untuk diabetes juga disampaikan oleh Claes-Göran Östenson, Professor, Endocrinology, Karolinska Institutet, Sweden. Ostenson mengatakan ada 7 faktor yang dapat membuat tatalaksana diabetes berhasil, yaitu: fokus pada target outcome pasien (HbA1c, BP, Lipid), upaya segera untuk membantu pasien dengan outcome yang tidak baik, kinerja unit diabetes selalu dipantau, akses yang mudah kesumber informasi bagi pasien, ada tindak lanjut dan umpan balik dari hasil pengukuran mutu, peningkatan mutu berkelanjutan serta membangun rasa memiliki untuk program diabetes.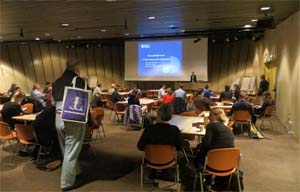 Sedangkan Wendy Nicklin, President and CEO, Accreditation Canada, Canada menyampaikan program akreditasi untuk unit stroke. Nicklin menyatakan Kanada telah mengembangkan sistem akreditasi untuk penyakit stroke. Program akreditasi ini dikembangkan bersama dengan Canadian Stroke Network dangan fokus kepada Canadian Best Practice Recommendation for Stroke Care (ini seperti Pedoman Nasional Praktek Kedokteran/PNPK yang dikeluarkan oleh organisasi profesi. catatan: memang merupakan tantangan tersendiri untuk memastikan PNPK benar-benar dijalankan dilapangan, sehingga akreditasi seperti ini mungkin dapat membantu). Program akreditasi ini difokuskan untuk menilai clinical excellence, mutu, keselamatan dan inovasi. Penilaian dilakukan tiap 2 tahun. (informasi lebih lengkap dapat dilihat di www.strokebestpractices.ca
Pembicara berikutnya adalah Kathy Elliott, Programme Director, NHS Improving Quality, England. Elliott menyampaikan mengenai Achieving improved cancer outcomes - a pathway approach, engaging primary care and partners. Elliot mengatakan bahwa Inggris cukup berhasil meningkatkan outcome pasien dengan cancer karena beberapa upaya berikut: Shared purpose, clinical leadership, open approches, relationships and networking, patien and public focus serta sustaining a focus.
Keempat pembicara ini seakan menegaskan bahwa untuk mencapai mutu yang telah mereka capai memang diperlukan sikap "strive for excellent" tidak saja dari leader tapi dari seluruh staf, sebuah budaya bersama.
2. Deliver Value by Desain
Pembica pertama adalah Anthony M. DiGioia III, MD, Medical Director, PFCC Innovation Center and the Bone and Joint Center, Magee-Womens Hospital of UPMC, USA yang membahas mengenai Deliver value by design with PFCC (Patient and Family Center Care): improve outcomes while reducing costs. DiGioia mengatakan bahwa value pelayanan kesehatan adalah outcome pelayanan kesehatan (yang penting bagi pasien) dibagi dengan biaya.
DiGioia juga menggunakan TDABC yang dapat menghitung biaya dengan tepat dengan mengidentifikasi baik biaya personal, ruangan, peralatan dan bahan habis pakai (TDABC ini dapat dipelajari lebih lanjut "How to Solve the Cost Crisis in Health Care di Havard Business Review 2011).
Pembicara selanjutnya adalah Beverley Fitzsimons, Fellow in Health Policy, the King's Fund, England yang membawakan presentasinya dengan judul Deliver value by design - Patient and family centred care. FItzsimons menceritakan pengalamannya menggunakan konsep PFCC bahwa untuk mencapai outcome yang luar biasa, diperlukan leadership dan budaya, perhatian dari staff, partnership, realibility care dan evidenced based care.
Fitzsimons kemudian menjelaskan 6 langkah dari PFCC yang juga sudah disampaikan oleh DiGioia yaitu: mengidentifikasi pengalaman pasien, menetapkan pedoman, mengevaluasi kondisi dilapangan, mengembangkan working group, menyebarluaskan visi tentang pengalaman pasien yang ideal serta mengidentifikasi project PFCC untuk dijalankan.
3. Indikator Mutu Nasional.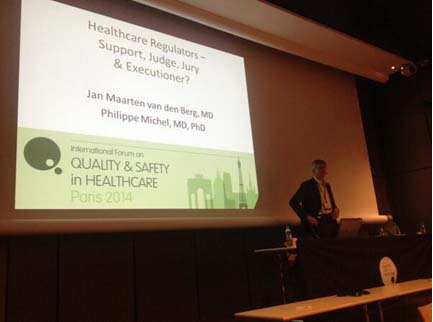 Sesi ini menghadirkan pembicara dari 2 negara yaitu Belanda dan Swedia yang diposisikan untuk beradu argumentasi, yaitu Ian Leistikow, MD PhD, dan Jan Maarten van den Berg, keduanya adalah Senior Inspector, Dutch Healthcare Inspectorate, the Netherlands serta Fredrik Westander, Consultant, Regional Health Care Quality Comparisons, Swedish Association of Local Authorities and Regions (SALAR), National Board of Health and Welfare, Sweden.
Perdebatan terkait dengan berbagai opsi: apakah memilih prioritas menetapkan daftar indikator yang ideal atau membangun sistem pengukuran indikator dahulu, apakah tercapainya indikator yang terpenting atau proses peningkatan mutu yang lebih baik, apakah fokus kepada beberapa indikator dulu atau langsung menyediakan daftar lengkap indikator, apakah fokus kepada benchmarking atau pada quality improvement.
Kedua negara mengambil opsi yang berbeda, namun tentunya mereka mengambil kesimpulan bahwa dua kutub perbedaan opsi tersebut sebenarnya sama-sama penting.